Next-Level Technology for Dealership Marketing
L2T has partnered with thousands of dealers, launched thousands of campaigns and reached millions of qualified shoppers. Our team of automotive digital marketing experts and customer success team strategize your digital marketing plan and help you get results your business. L2T's next-level digital marketing solutions – paid search, paid social, display, SEO, reputation management, social media – improve performance and profitability for your dealership, based on your business goals.
Our proprietary AutoQuity™ digital advertising platform uses machine learning to programmatically optimize your campaigns across all channels and makes digital marketing faster, easier and precision-targeted for our dealers. This platform was made with dealers in mind. With a 24/7 Performance Dashboard, partnerships with Google, Facebook Amazon and Microsoft and a customer success team we drive results for our dealers.
Video Overview
Compare Packages
Enroll
PRICING & PACKAGES
---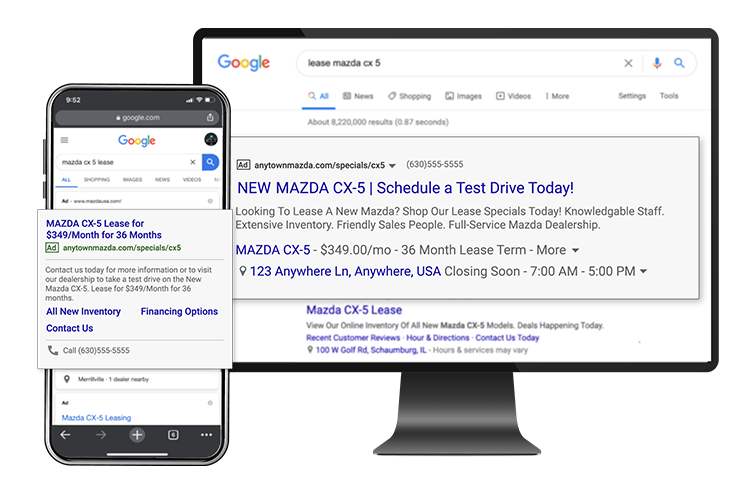 L2TMedia Paid Search
The Most Essential Step in Targeting In-Market Shoppers
Paid Search ensures your dealership is there to engage with ready-to-buy shoppers right when they hit the search bar. With a focus on the best-performing keywords, L2T achieves better-than-average click-through rates for our dealers and we help:
Drive more vehicle views, customer leads and store visits
Expose your incentives and offers
Capture more mobile traffic and calls
Focus on best-performing keywords
Provide strong ad copy and call-to-action
---
L2TMedia Paid Social
Target In-Market Shoppers on Facebook and Instagram
Paid Social allows you to hyper-target in-market shoppers based on multiple online behaviors. Drive website traffic and leads by leveraging Paid Social ad formats to:
Hyper-targeted advertising opportunities
Retargeting and similar audiences
Leveraging all Facebook ad format options
Exposure to your current incentives and offers
Sending qualified traffic to your website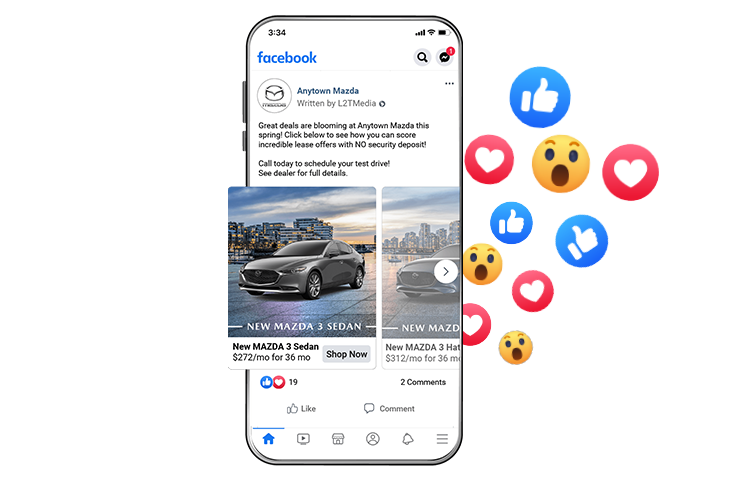 ---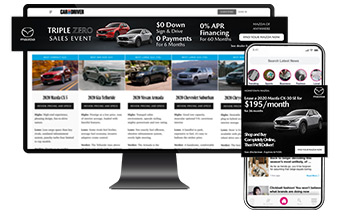 L2TMedia Re-targeting / Display Advertising
Drive Awareness and Maximize Impressions to Drive Interest
Display Advertising increases consideration by in-market shoppers by increasing your dealership brand awareness with eye-catching visuals of your vehicles. With a focus on location-based and behavioral targeting L2T will help you use engaging display advertising to:
Drive high-quality website traffic
Increase consideration by in-market shoppers
Send qualified shoppers back to your website
Boost vehicle views with dynamic VDPConnect ads
Provide the visual pop to your ads with our proprietary AdBuilder
---
L2TMedia Performance SEO
Amplify Your Dealership's Organic Ranking
SEO provides long-term gains in search visibility and increases in organic website traffic. L2T's SEO technology platform uses data-driven insights and machine learning to optimize your website and boost your position in search to:
Increase organic relevancy
Direct more searchers to your dealership
Monitor your top competitors
Ensure local business citation accuracy
Create fresh and evergreen website content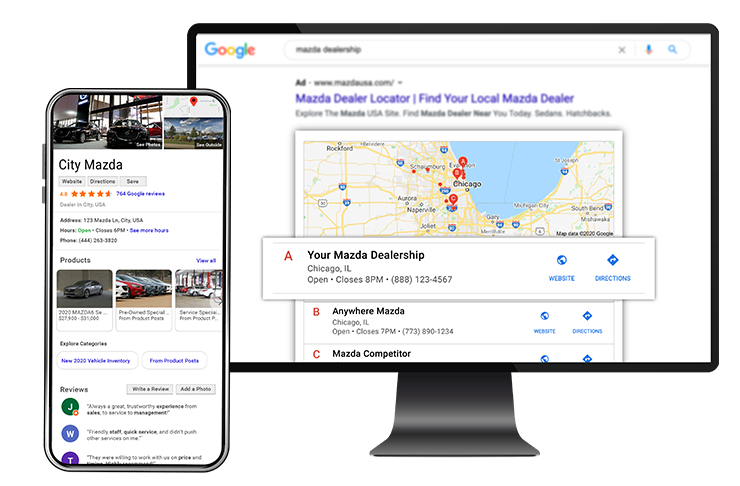 ---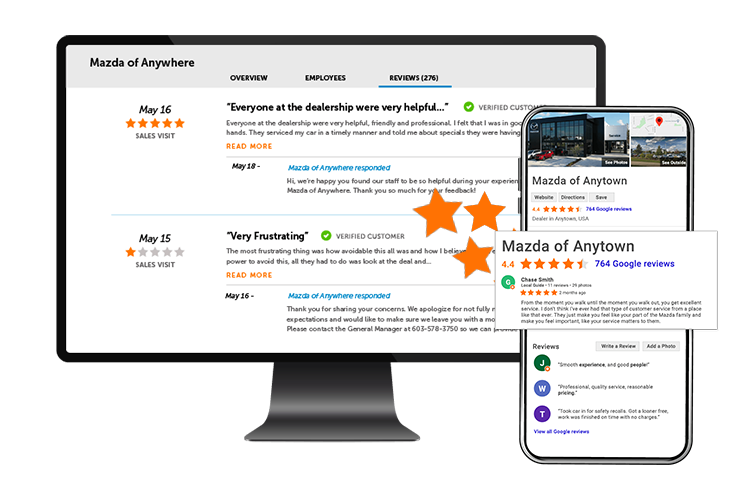 L2TMedia Reputation Management
Attract Customers with Your Online Reputation
Reputation Management is key for in-market buyers since most shoppers trust online reviews and they factor heavily in their dealer selection process. L2T will help your dealership build a strong reputation online and maximize the opportunities with your reviews to:
Demonstrate to shoppers that you care
Appear higher in search results
Aid in capturing reviews from customers
Monitor reviews on multiple review sites
Address negative reviews, and respond within 24 hours
---
L2TMedia Social Impact
Engage with Your Community on Social Media Platforms
Social Impact organically builds long-term loyalty for your dealership and extends the reach to future shoppers. With a focus on extending engagements with active shoppers L2T builds your social page interactions to:
Optimize your social profiles
Establish a connection with your customers
Build a forum for relevant content and reviews
Create a more qualified base
Enhance your SEO presence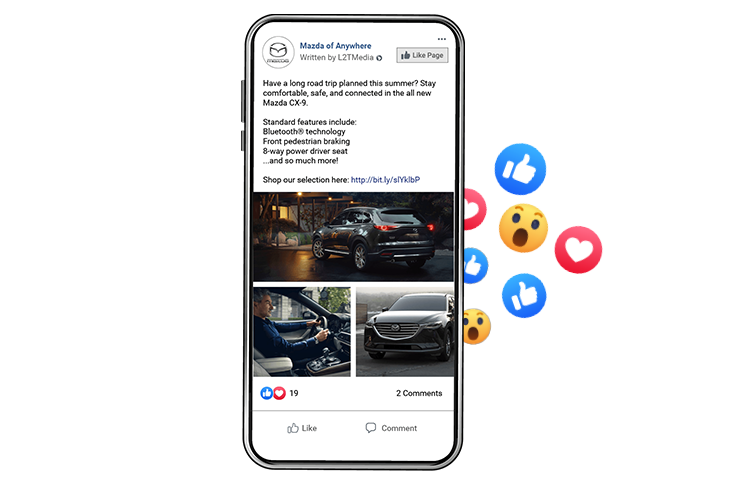 ---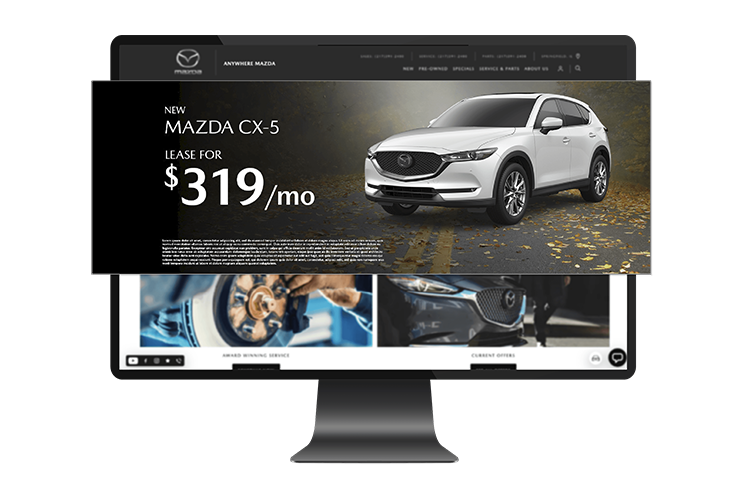 L2TMedia AutoIncent™
Showcase Your Incentives to Attract Shoppers
AutoIncent™ exposes your current incentives to give active car shoppers what they want, Information on inventory and price. AutoIncent™ makes it easy for dealers and encourages website conversions. This allows for seamless website updates to:
Publish specials dynamically
Maximize your vehicle views
Ensure consistent pricing and messaging
---
L2TMedia Cars for Sale
Share Inventory on Your Google Business Profile
Give your dealership the opportunity to share your current inventory directly on Google Search and your Google Business Profile.
Inventory is searchable and filtered
Customers can learn more about the vehicle
Direct shoppers to your Vehicle Detail Pages