DealerOn's comprehensive digital marketing suite combines the three most important digital marketing levers (Website, SEO, and SEM) into a single comprehensive digital marketing platform. DealerOn's data-driven, end-to-end optimization system not only provides Mazda dealers with the highest ROI of any solution, but also gives them the data transparency they need to confidently reinvest and grow their business through their digital marketing.
Compare Packages
Enroll
Pricing & Packages
---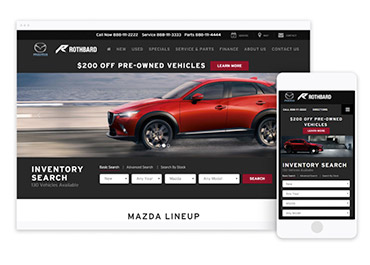 RESPONSIVE WEBSITES
DealerOn's websites use our Responsive Platform, Chameleon, to deliver the optimal experience to your desktop or mobile customers. We use Responsive Design (as opposed to a Multi-URL, Adaptive or Seamless platform) for the same reasons that Google recommends it:
SEO - Responsive Technology is the only solution that doesn't require User Agent Detection that plagues Google's bots when crawl your site. This is one of the reasons that Google recommends Responsive Design for your website. A Single URL for each page (using mazda-dealer.com for desktop and mobile instead of using mobile.mazda-dealer.com for mobile phones) improves indexing and consolidates all inbound link value.
Conversion - Responsive is better for User Experience because (as Google states) it doesn't rely on User Agent Detection.
Ease of Management - Responsive Design requires less management, because you don't need to create and optimize multiple versions (Desktop, Mobile, Tablet) of the same content.
Future Proof - According to Google Analytics, in 2016 the average Mazda website had visitors using more than 500 different screen resolutions, and that number is growing! A Responsive Platform is the ONLY way to future-proof your site for all devices – phones, phablets, watches, glasses, other wearables.
---
ELITE SEO
DealerOn's Elite SEO add-on package is unique and unrivaled in the industry. Our nationally recognized Local SEO experts spend dozens of hours each month building out:
On site signals - DealerOn creates specific, targeted content for maximum local exposure. Content is optimized and tweaked on an ongoing basis for local searches. Dealers also receive one custom blog post each week.
Off-site signals - DealerOn builds relevant links to the dealer's website, but with a focus on local links. A full citation audit is included, and all incorrect or incomplete are cleaned up and completed.
Social media management - Dealers receive daily posts on Facebook, Twitter, and Google Plus, increasing local engagement. Incoming comments or inquiries are answered by our team, and we consult with the dealer's social team to maximize their returns on their social efforts.
Reputation management - Our team consults with each dealer to build out an effective strategy for increasing positive online reviews, monitoring each review site on a daily basis. DealerOn's team crafts appropriate responses to minimize damage from any negative reviews.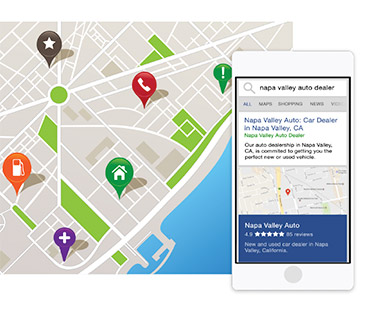 ---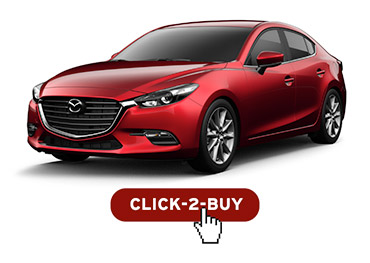 CLICK-2-BUY
Dealeron's online sales platform Click-2-Buy facilitates the complete end-to-end buying experience for the automotive consumer, incorporating all aspects of the in-store sales process, including trade-in appraisal, integrated rebates, credit pull, tax, tag, and registration fees, and finance menu. Click-2-Buy is the first of its kind in allowing car dealers to provide a fully online e-commerce purchase experience for an automotive consumer to actually buy a car, including financing, trade-in, paperwork, etc., from the comfort of their own home.
---
PARTS & ACCESSORIES E-COMMERCE PLATFORM
Currently, dealers have only a small portion of the over $5 billion dollar annual online parts and accessories consumer market, trailing more e-commerce-focused outlets like Ebay Motors, NewEgg, and Amazon. DealerOn's fully-integrated Parts & Service E-commerce Platform is a turn-key solution for dealers who want to gain an additional profit center for little to no additional overhead. DealerOn's Premier Parts Plus Platform includes a comprehensive online parts e-commerce suite for all parts dating as far back as 40 years, an end-to-end transaction e-commerce gateway accepting major forms of payment (Visa, Mastercard, Discovery, AmEx, PayPal), full OEM compliance, and a fully-responsive, search engine optimized website with semantically marked-up pages for thousands of parts and accessories.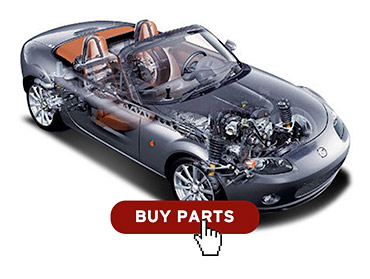 ---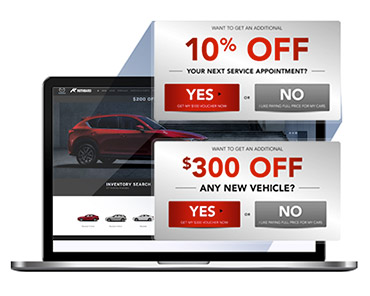 BEHAVIORAL TARGETING SYSTEM (BTS)
DealerOn's Behavioral Targeting System (BTS) is a state-of-the-art lead generation enhancement system designed to increase the number of leads and service appointments by delivering contextually relevant offers to consumers as they leave a dealer's website. As an example – A consumer visits a Mazda dealer's website, peruses the hours of the Service Department, checks out their Service Reps experience, and then leaves the site. Using patent-pending technology, BTS detects the consumer's mouse moving to abandon the website, and dynamically serves up a 10% off Service offer (or whatever Service offer the dealer wanted to leverage).
Dynamically Serve Intelligent Offers
Increase Vehicle Sales 10-20 units/month
Increase Service RO's
---
A/B SPLIT TESTING
DealerOn has pioneered A/B testing in the retail automotive space. Your site will immediately reap the optimization learnings from each A/B test that we conduct on our platform, and you may A/B test behaviorally targeting offers on your own site with our Elite Website Package.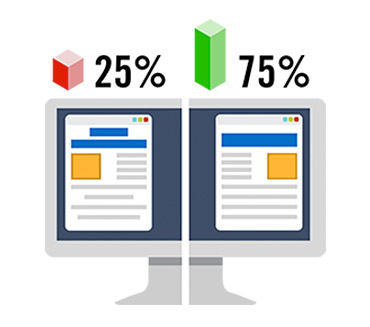 ---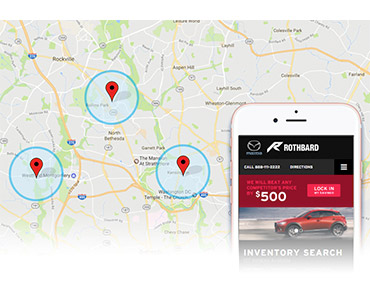 GEO-FENCING
For most car dealers, consumer "showrooming" – shopping a competing dealer's website while visiting a dealer's showroom, is now the norm, not the exception. According to Google's study "The 5 Auto Shopping Moments Every Brand Must Own", half of all car shoppers use their mobile phones while on a dealer's lot, and their top action is to confirm they are receiving a good price (by shopping competing dealers and third party sites).
DealerOn's platform gives our dealers the ability to conquest consumers who are "showrooming" (checking out their website from a competitor's lot) by pushing targeted offers to website visitors, based on their actual location. Dealers can create any number and variety of offers that will fire only to visitors located within the dealer defined.
---
ANDROID PAY/APPLE WALLET SERVICE COUPONS
DealerOn has pioneered A/B testing in the retail automotive space. Your site will immediately reap the optimization learnings from each A/B test that we conduct on our platform, and you may A/B test behaviorally targeting offers on your own site with our Elite Website Package.
---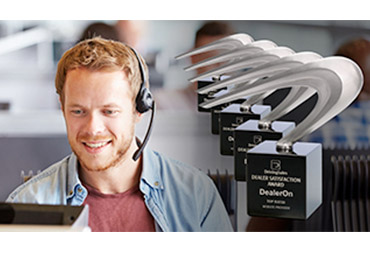 CUSTOMER SUPPORT/CLIENT RESULTS
At DealerOn, we pride ourselves on delivering world-class, proactive, industry-leading customer service to our dealer partners. We have won five straight "Top-Rated Website Provider" awards, and we strive to provide a truly remarkable customer experience to all of our clients.