Sokal + Mazda Partnership = Transparency, Performance, Ease & Trust.
Momentum is Sokal's web platform designed to save your dealership money and increase ROI. With custom responsive websites including advanced features such as personalized experiences, advanced mobile optimization, easy inventory integrations, and enhanced data protection, ensuring your site isn't bogged down with bot traffic, your website will be a seamless extension of your brick-and-mortar dealership. By leveraging our Dealer Draft website builder tool, we'll work with you to create the custom design that best fits your dealership's needs while maintaining brand compliance. In conjunction with our Sokal Switch promise, your new website will be up and running in no time!
Compare Packages
Enroll
Pricing & Packages
---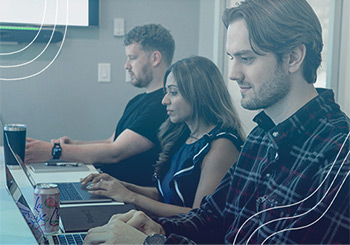 Premium Support
Sokal, founded by a former automotive dealer, was built to solve dealer challenges, and at the core of our DNA, we understand what it means to have a problem that needs a fast resolution. With Sokal, you get a dedicated account manager backed up by a team of US-based full-time digital experts to deliver white glove service and premium support in minutes and hours, with 24/7 performance monitoring and after-hours emergency support, all included at no additional cost. One call does it all in record time.
---
Dealer Draft and Easy Customization
Dealer Draft is our custom website builder tailored within Mazda brand guidelines to help quickly create a unique and customized website to suit your local market and customer needs best. Being able to see all Mazda-approved website designs in one location, Dealer Draft helps get the perfect unique site live for you in record time!
Once your unique site is live, you will have access to easy ongoing customizations in the platform and, with the help of Sokal's Premium Support each month, to keep you in the lead of competitors.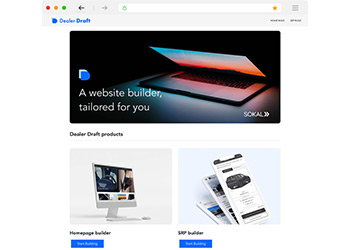 ---

Sokal Switch with Dedicated Launch Team
Our website launch team and onboarding experts have proven processes in place to ensure we get your brand new Mazda website up and running with no downtime between changing. We only require a few pieces of information, making the switch as seamless and painless as possible. Upgrade to a Sokal site today for faster load times, more inventory views and leads, and a better customer experience.
---
Responsive Optimization, Speed, and Flexibility
On top of best-in-class geographically dispersed and scalable solutions from Amazon Web Services, the Momentum website platform is built for speed and optimized to provide the best experience on any device. Built from the ground up, leveraging enterprise-grade software development framework Ruby on Rails, our ability and flexibility to customize solutions to your unique needs exceed what other providers offer.

---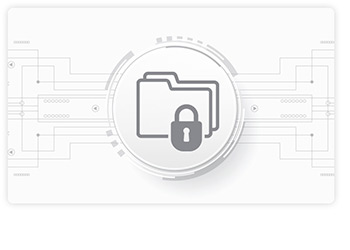 Data Guard backed by AI
Momentum Data Guard is our best-in-class multi-layered advanced security and bot protection technology with AI learning to protect customer data and optimize traffic to your Mazda website. Learning over time, the technology improves every day to ensure your website is running at peak performance, prevents bot traffic from stealing your ad budget and inflating your numbers, and works to provide the best secure experience possible to your customers.
---
Elite Website Features with Personalized Customer Experiences
Custom Creative: Momentum websites include custom monthly creative specials that can be customized to the dealer as well as banners that can be customized to the individual shopper based on previous site browsing interaction.
Similar Vehicles: Momentum surfaces vehicles on search that are similar to previous searches for return visitors showcasing what might closely align with a shoppers needs.
Wishlist: Shoppers can create a wishlist of vehicles on Momentum that are available on return visits, which is especially useful for pre-owned inventory.
Coupon/Popup Customization: Coupons, promotions, and popups can be customized to show based on predefined actions on the site including behavioral interactions, number of return visits, or time on site.
Momentum Heat Sheet: Dealers receive a daily email with a list of all customers that filled out a lead previously (6 months or less) as soon as they re-enter a Sokal website. Details include previous lead details, date and time plus all vehicles viewed. (Included as part of our Premium + Elite SEO packages)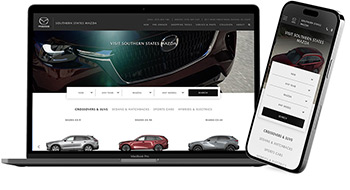 ---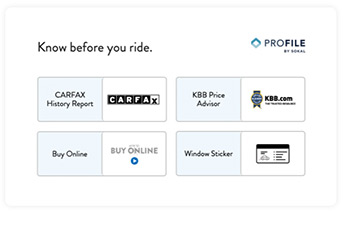 Profile
Engage shoppers longer on the VDP and provide them with all the tools they need in one spot to pick their dream Mazda vehicle. Profile by Sokal is an easy-to-use badge system that highlights the best things about the vehicle, your dealership, and any third-party shopping tools.
---
SEO
With automotive, local SEO content is essential. Our team structures metadata around your location and our SEO content specialists collaborate to craft custom messaging while focusing on building an organic presence by back-linking with our third party partners. Sokal's SEO can be applied to any website platform, allowing you to own your local market and grow your organic traffic. We constantly evaluate performance and make adjustments to help you own your local market and grow your organic traffic.
Benefits:
Improve your ranking during internet searches
Widen your scope of potential clients and extend the reach of your dealership website
Unique content created specific to your ideal audience and brand
Leverage our SEO experts who are specialized in automotive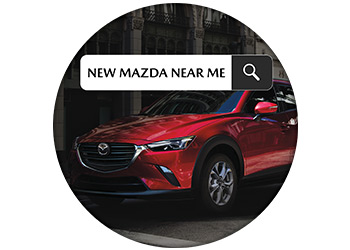 ---
Transparent and Detailed Reporting
Momentum Reporting provides an easy-to-use dashboard with relevant stats and benchmarks at your fingertips to prove the effectiveness of your website and provide transparency. Sokal is also proud to be a founding member of the Automotive Standards Council and one of the first to integrate the ASC standard and GA4 natively into the website platform, which will be critical as Google transitions off the legacy universal analytics product. Easily accessible 24/7/365, you can customize alerts around specific metrics important to your Mazda dealership.