Dealer eProcess has spent nearly a decade building its proprietary digital marketing platform, CARoi, from the ground up to be the most advanced, most transparent, and most data-driven marketing platform in the industry. The platform itself features advanced, dynamic ad creation technology that not only allows us to create and manage vast ad accounts at scale, but also guarantees compliance with our OEM partners.
A unique feature of our platform is our proprietary AI bid management system that helps to optimize all facets of the campaigns at scale. Using this system, our ad platform is able to churn through massive amounts of relevant data to ensure better targeting, better allocation of ad spend, and continually improve campaign efficiency.
Video Overview
Compare Packages
Enroll
PRICING & PACKAGES
---

PAID SEARCH
Let us turn your service bay and parts department into an unstoppable force! Our proprietary advertising system generates ads for not only all your services but for the models your dealership services as well!
That means the ad served is the ad that fits their needs, which reduces the frequency of unwanted and unqualified clicks. This keeps your SEM costs down and your conversion rates up, and sets us apart from other SEM vendors.
---
REMARKETING
Look BIG to every shopper who visits your website. We will create and serve ads that will follow your prospects around the web's most popular sites after they visit yours. We'll display engaging messages based on their exact activity on your site.

---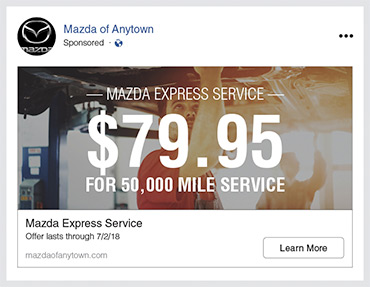 SOCIAL
Facebook is one of the most powerful and cost-effective advertising channels for automotive with over 2 billion active users. Facebook ads are a valuable tool for car dealers because Facebook's varying ad types can be used to target potential customers.
---
VIDEO
With over 90% of 25-54-year olds watching YouTube every day, YouTube for Action Advertising is one of the best ways to increase awareness for your brand. Whether remarketing or targeting an in-market audience, you can effectively display your advertising message to your ideal shopper. YouTube for Action campaigns are cost effective and also allow you to add a custom Call-To-Action button to entice shoppers to come visit your website after they watch your video.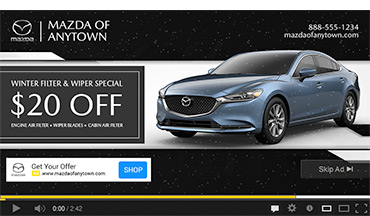 ---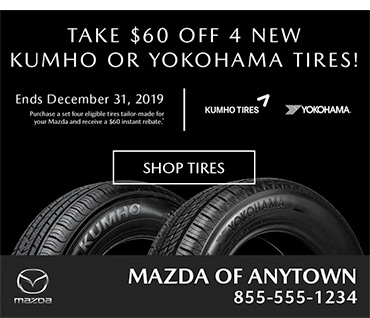 DISPLAY
Whether you want a campaign designed for dealership branding, or something event-driven or service specific, we can do it. We'll design and place a targeted digital ad on hundreds of websites. And unlike traditional media, your prospects are only a click away from visiting you. You will find this to be a more cost-effective way of advertising, with a proven ROI.
---
WAZE
WAZE is a map/navigation app used by over 90 million consumers in the US. Every minute, there are over 7 navigations to car dealers and every 5 minutes, over 56 searches for vehicle service centers on the app. If you don't take advantage, you run the risk of having your customers get directed to your competitors' showrooms and service lanes, instead of your own.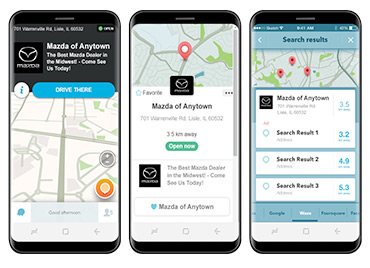 ---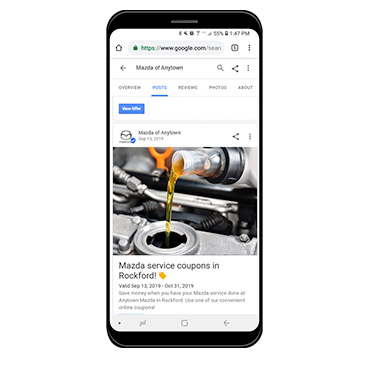 GOOGLE POSTS
Google Posts are an inexpensive way to put a vivid image of your store and your offers on the front page of Google. Posts allows you to place scrolling banners just under your Google My Business listing. These banners are managed and can be rotated to ensure your messaging is always relevant and gives you the most visibility on Google.
It also allows the posting of coupons, giving you the ability to have your special offers and promos on the first page of Google every time. The utilization of Google Posts helps give you an SEO boost and adds value to your Google My Business page listing.
---