DealerOn gets you results. We combine a robust, state-of-the-art advertising platform, smart people continually managing and optimizing your advertising strategies, and awesome creatives to deliver results time and time again. We deliver results by utilizing data to target the consumers in your market with precision and accuracy, this means a more efficient use of your ad spend and more customers in your service lanes.
Video Overview
Compare Packages
Enroll
PRICING & PACKAGES
---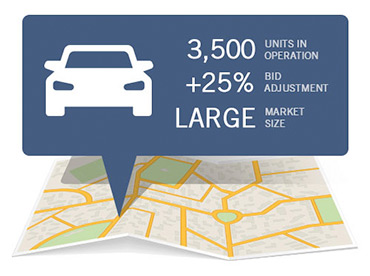 ROI-FOCUSED CAMPAIGN DESIGN
Everything that we do is focused on maximizing your ROI. Our advertising campaign design takes into critical data such as information about actual units in operation (used to determine areas with opportunity), actual searches that consumers are doing, and understanding of which keywords and keyword combinations are the most salient to your customers and will lead to the best returns for you. Our approach is data-driven.
---
MOBILE-FIRST STRATEGY.
Today, with so many people going online via mobile devices, it is critical that advertisers get their message out to this massive mobile market. DealerOn's approach is a mobile-first strategy which addresses the four primary types of search-based advertising: general searches, competitor searches, OEM-specific searches, and local searches.
---
DETAILED, TRANSPARENT REPORTING.
Our platform has detailed reporting features including call- and form-tracking. For customers who also have a DealerOn website, we provide full end-to-end reporting that can track a customer's interaction from the initial click down to the actual service repair order. Furthermore, we operate under a policy of full disclosure. We believe that the customer has the right to know what is going on with their campaign, and are fully committed to providing transparent reporting to you.