The Team that creates Velocity for your dealership.
Apollo Ads advertises 100% of your inventory and your service department across every digital medium with compliant prices, payments and incentives. It automatically creates, updates and manages ads on Google, Bing, Facebook and YouTube, and fully integrates with Apollo Sites, ensuring all your digital ads match your website 24/7/365. Every digital ad or video will match your VDP's 100% of the time. Apollo Ads exceeds the standards of the Google and Facebook Guidebooks.
Video Overview
Compare Packages
Enroll
PRICING & PACKAGES
---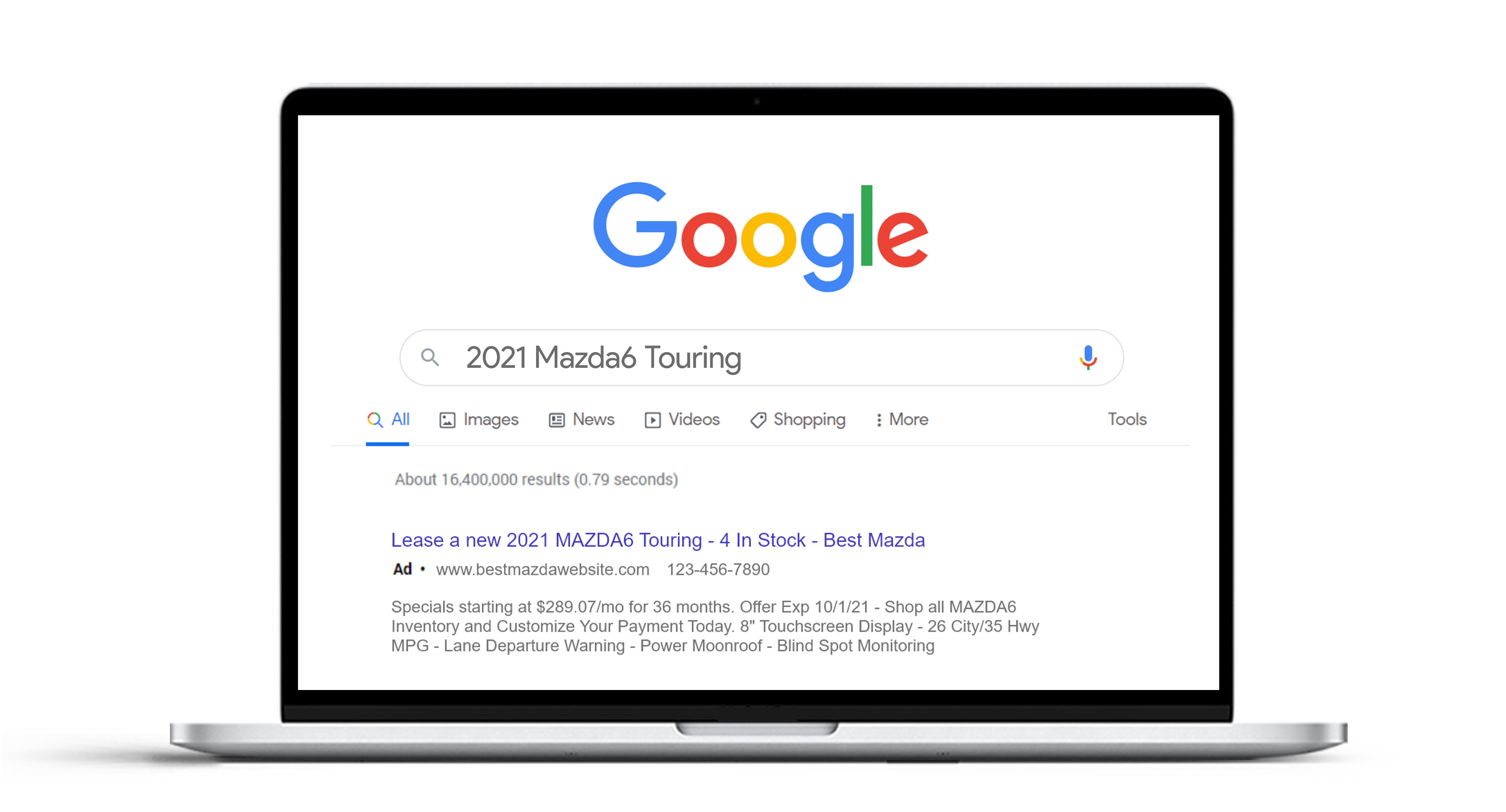 Search
Apollo Ads generates the industry's best-performing search ads for new, used, certified, and service departments within your Perfect Market. Performance is driven by ad relevance to the consumer's shopping intent and every ad leverages the search engines' A/B testing functionality with up to 5 variants of each ad and 3 variants of each price extension to further improve relevance and performance with different service offers, pricing, and related services. Apollo even updates bids every 30 minutes to further optimize your budget.
---
Social
Apollo Ads delivers an industry-first for social media advertising with our payment-based ads on every service or parts offering and every model in stock. Social ads target in-market customers and conquest opportunities, delivering a relevant message to each consumer. Ads are generated for service departments as well as new and used vehicles and are consistent with the rest of your marketing. All ads are updated daily, meet all compliance regulations, and include transparent reporting for optimal attribution and performance.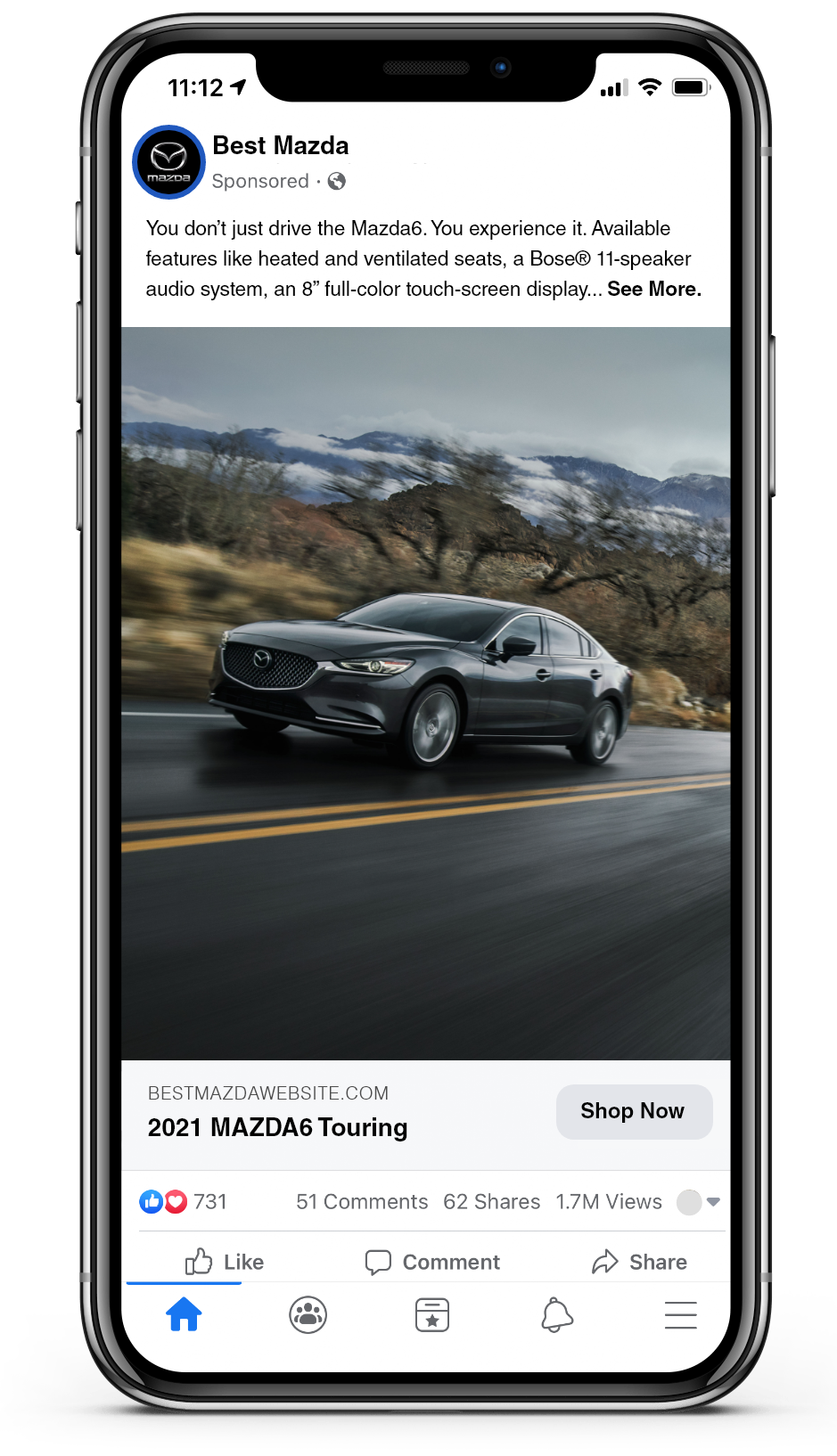 ---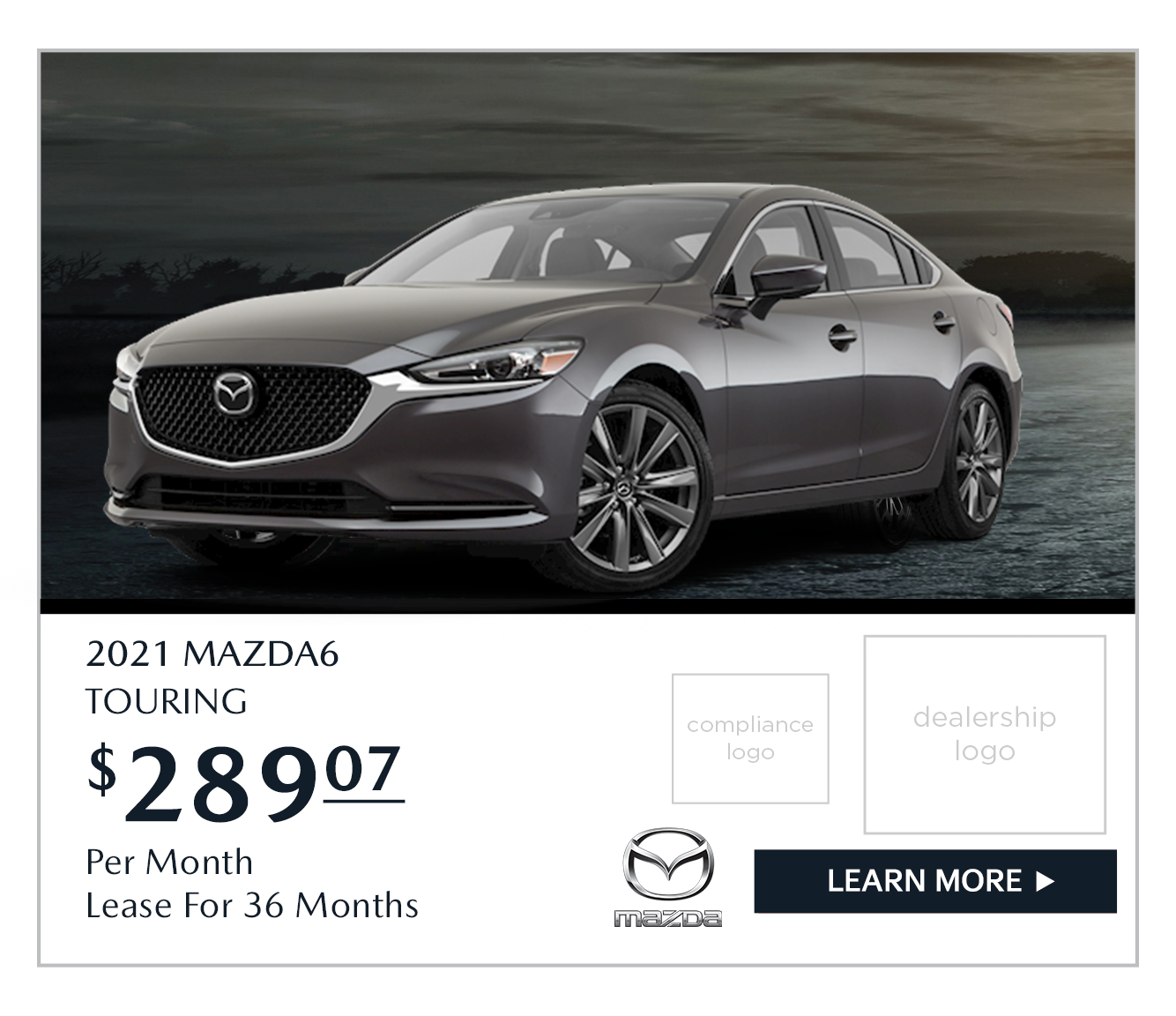 Display
Apollo Ads re-engages online shoppers with dynamic display ads for the offers they are shopping for based on their history on your website. Ads are updated daily with current pricing, inventory, and incentives. Every ad is optimized through our bid management solution every 30 minutes to create the most efficient ad buy possible.
---
Offer Manager
According to Google, a payment is the most requested piece of information during ready-to-by-moments. Advertising payments provides price transparency and delivers 4x the engagement. Apollo's offer management platform allows for multiple price points per service offer based on a customer's status with the dealership.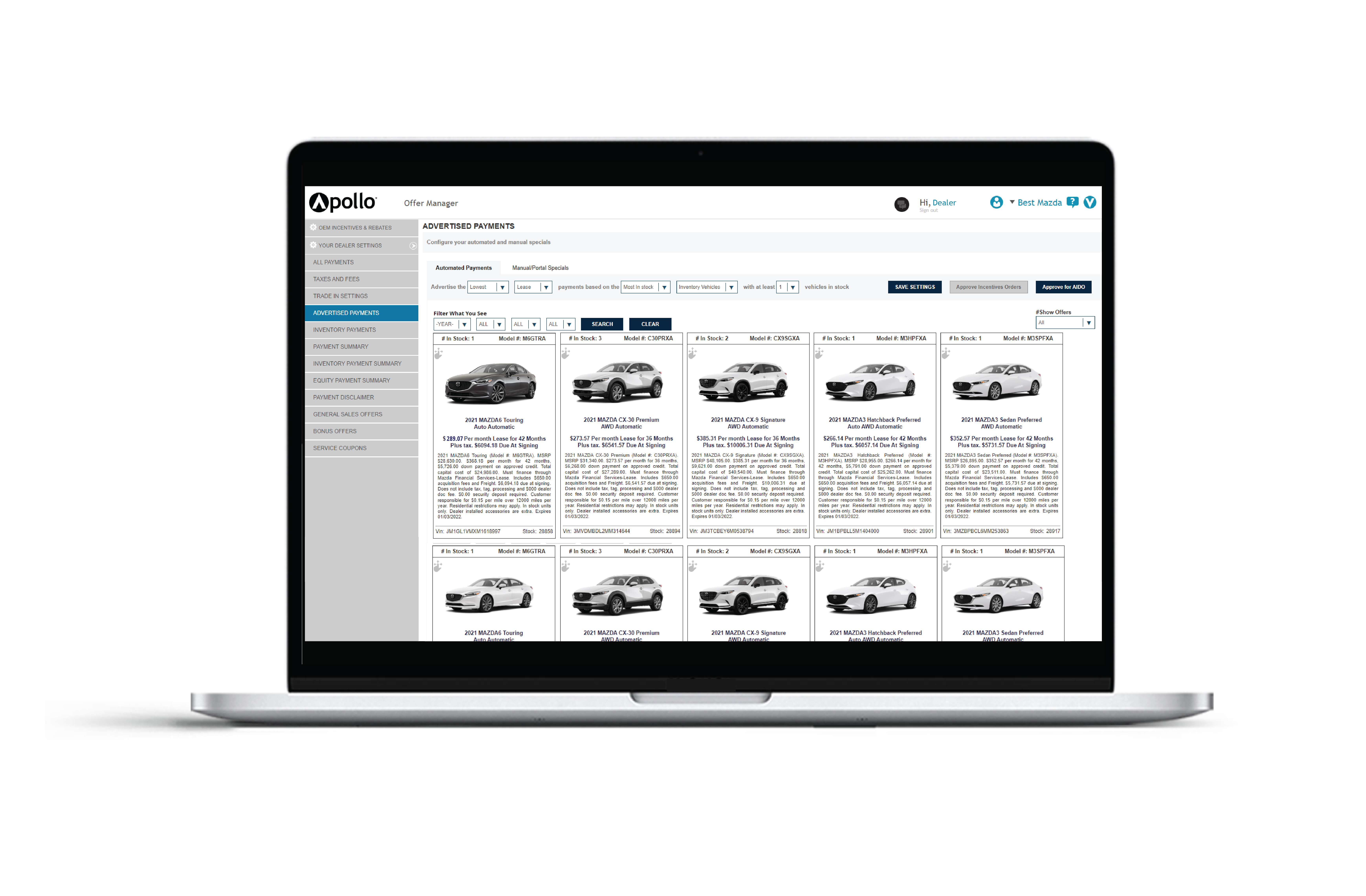 ---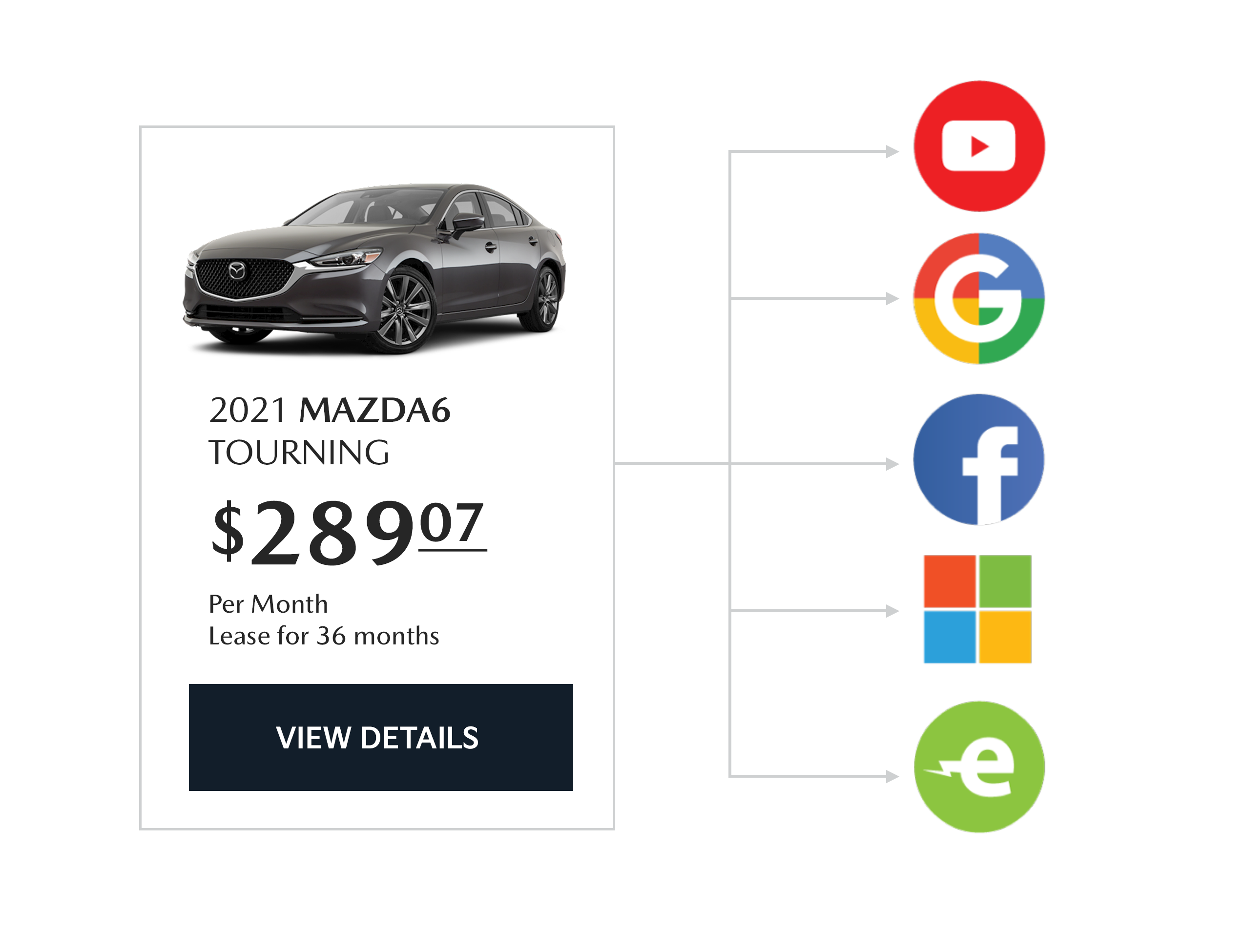 Ad Sync
Apollo's proprietary multi-channel marketing API allows you to advertise your entire inventory across all customer touchpoints. Ad Sync instantly pushes ads into every major advertising channel, like Email, Google, Bing, Facebook, and YouTube, to ensure that the content and offers on your website are consistent with your campaigns.